Mental Health Initiative 2023
#BreakTheStigma
Welcome to the MHI 2023! Herzlich willkommen zur MHI 2023!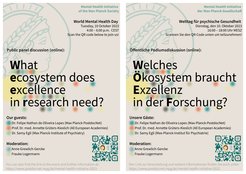 English-language MHI Events (ONLINE)

Please click on each event in the slider below for details such as abstracts and meeting links to the video conference room.

The list of public events on the MHI website is constantly updated. The English-language lectures are generally held on the 3rd Wednesday of the month from 11 a.m. to 12 noon and the English-language TeaTimes (which are informal and online exchange sessions) are held on the 2nd Thursday of the month from 4 p.m. to 5 p.m.
Deutschsprachige MHI-Veranstaltungen (ONLINE)

Bitte klicken Sie auf die einzelnen Veranstaltungen im Slider unten, um Details wie die Abstracts und die Einwahllinks in den Videokonferenzraum zu erfahren.

Die Liste der öffentlichen Veranstaltungen auf der MHI-Website wird ständig aktualisiert. In der Regel finden die deutschsprachigen Vorträge am 1. Mittwoch des Monats von 11 bis 12 Uhr und die deutschsprachigen TeaTimes (das sind informelle und virtuelle Austauschmöglichkeiten) am 2. Donnerstag des Monats von 15 bis 16 Uhr statt.
Acknowledgements / Danksagungen

The MHI 2023 is a joint project of the Max Planck Society (MPG) with its 86 Max Planck Institutes (MPIs), Universities, Hospitals, and other initiatives and institutions, including (in alphabetical order):

Die MHI 2023 ist ein Gemeinschaftsprojekt der Max-Planck-Gesellschaft (MPG) mit ihren 86 Max-Planck-Instituten (MPIs), Hochschulen, Kliniken und anderen Initiativen und Institutionen, darunter (in alphabetischer Reihenfolge der Kooperationspartner:innen auf Englisch):
| No.    | Names of our cooperation partners | Namen unserer Kooperationpartner:innen |
| --- | --- | --- |
|   | Asylarbeitskreis Heidelberg e. V. | Asylarbeitskreis Heidelberg e. V. |
|   | Central Institute of Mental Health, Mannheim | Zentralinstitut für Seelische Gesundheit, Mannheim |
|   | District Hospital Günzburg | Bezirkskrankenhaus Günzburg |
|   | Dragonfly Mental Health | Dragonfly Mental Health |
|   | Max Planck Society (MPG) | Max-Planck-Gesellschaft (MPG) |
|   | Mozarteum University Salzburg | Universität Mozarteum Salzburg |
|   | Projektatelier Wyhlen | Projektatelier Wyhlen |
|   | Rechts der Isar Hospital of TUM | Klinikum rechts der Isar der TUM |
|   | Ruhr University Bochum | Ruhr-Universität Bochum |
|   | Technical University of Munich (TUM) | Technische Universität München (TUM) |
|   | Techniker Krankenkasse (TK) | Techniker Krankenkasse (TK) |
|   | University of Ulm | Universität Ulm |
|   | Vitos Clinic Hochtaunus | Vitos Klinikum Hochtaunus |
|   | zentor GmbH, Munich | zentor GmbH, München |