IDEA Seminar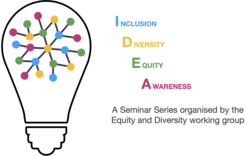 The IDEA (Inclusion, Diversity, Equity, and Awareness) seminar series is an initiative of the Equity and Diversity Working Group.
With this seminar and discussion series we will host MPG internal and external guests to speak about topics relating to equal opportunity and diversity, within the postdoctoral community and beyond.
All talks will be Wednesdays, starting at 13:00 (Germany).
Upcoming Seminars:
No events
Previous seminars:
Show more